View Cart: 0 | $0.00
Apple Unlock Code – Factory Unlock Apple iPhone for other Networks
We proudly offer you to unlock your Apple iPhone to enable use of your phone with other network carriers without any restrictions, saving money by avoiding roaming charges and increasing the value of your cell phone!
Permanent Unlocking solution, No Jailbreaking or Complicated Software. Unlock iPhone 5, 4S, 4, 3Gs, 3G + all any Firmware. Unlocking the iPhone to use on other Networks has never been easier!
Our Apple iPhone unlock is the best and most straight forward solution available on the internet. All you need to do submit your IMEI # and the model of your iPhone.
Once we have completed processing your order all you need to do is plug in your iPhone into your computer, start iTunes and your device will be automatically unlocked. That's it!
No taking apart your phone, no remote unlock code. The easiest and best unlocking solution available for the iPhone!
How to enter my Unlock Code on Apple iPhone ?
Actually there is no need to Enter an "Unlock Code" on Apple iPhone, all the process is done via iTunes once you receive from us the confirmation of Unlock. The most important part is in case you "Jailbreak" your iPhone in past to unlock it, that you remove all application related to that. Once your iPhone is clean from any Jailbreak Application please follow these steps :
1 - Install the last version of iTunes
2 - Make sure your iPhone is updated with the lastest version of Firmware (Currently iOS6)
3 - Swiftch on your iPhone with an Not Accepted SIM Card
4 - Connect your iPhone to your computer using the Original USB Cable
5 - Launch iTunes & wait until iTunes detect your iPhone
6 - Now disconnect your iPhone and reconnect it after 10 seconds.
7 - Your iPhone is now Unlocked.
PS: in Case your iPhone is not unlocked, just do "Restore" !
How To Unlock Apple iPhone? Safe, Fast & Easy!
How To Unlock Apple iPhone?
The instructions below are the complete unlocking instructions on how to Factory Unlock your Apple iPhone device. This method is the manufacturer method for unlocking the
Apple iPhone
that will allow you to use your iPhone with any GSM Sim Card carrier worldwide. This factory unlock will also allow you to update your iPhone to the latest software version without re-locking. If your iPhone has been blacklisted from the carrier you are currently on, you may use this method to unlock the device to be used on other networks. Please follow the instructions below to unlock your
Apple iPhone
today!
Please take backup of your iTunes before you start.

1. Please make sure that you are running the latest version of iTunes software on your computer. You can check it at http://www.apple.com/itunes/download

The next 2 steps are optional to unlock your iPhone, but these 2 steps will make sure that your iPhone is running the latest operating system software. If you do not have the original carrier SIM card or do not wish to update your firmware, please go to step 4.

2. If you've the SIM card from your original network (the network your iPhone is currently locked to), insert it. Connect your iPhone to your computer using the Dock Connector to USB cable provided with your iPhone.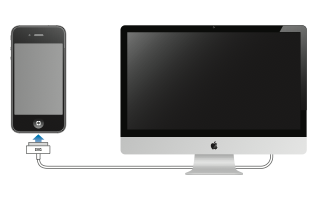 3. Update your iPhone's software in iTunes (It's running the latest iPhone Operating System or iOS).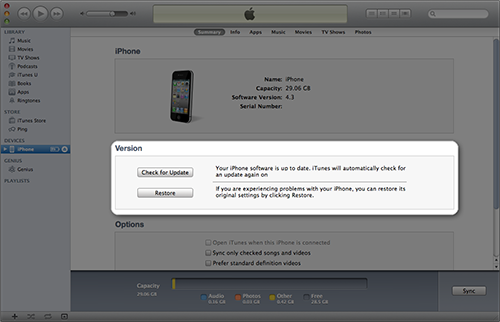 4. Insert a SIM card from a new service provider into your iPhone. It doesn't has to be a SIM card from the network you wish to unlock - it can be any valid SIM card from ANY network provider except the network your iPhone is currently locked to.



Inserting Sim - original iPhone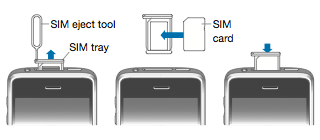 Inserting Sim - iPhone 3G & iPhone 3Gs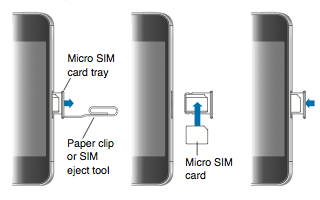 Inserting Sim - Apple iPhone

5. By inserting new SIM card, connect your Apple iPhone to your computer and wait for iTunes to detect your phone.

6. Once it's been detected, disconnect the Apple iPhone from your computer and wait for 20 seconds or so.

7. Reconnect your Apple iPhone to your computer and wait for iTunes to detect it again.

8. Once your Apple iPhone is detected for 2nd time, the process is completed and your Apple iPhone will be unlocked. After searching for few seconds, you'll see your new carrier logo appear in the top left hand corner on the screen of your iPhone's. This unlock is permanent and you can update your iPhone's firmware at anytime.

If you wish to see the unlock screen below within iTunes to confirm this is an official unlock, simply perform a restore within iTunes and once your iPhone is restored you will be presented with the message "Congratulation's, your iPhone has been unlocked" once the restore has completed.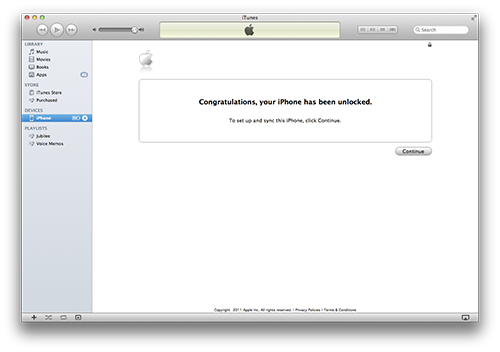 Why you should purchase with us?
- We are a registered business
- Lowest price on the internet
- Fastest Turnaround time
- Exceptional customer support!
- Easy to follow instructions
- 100% Guaranteed or your money back!
We can Unlock 99% of Networks
AppleUnlockCode.com can unlock most GSM Carriers cross the world. Whether you are trying to unlock a phone in North America, Europe, Australia, Asia, South America and over 180 Countries in the World, if we can't do it, most likely no one else can. We provide the largest database of accurate Unlock Codes and Unlocking solutions in the World today. We can even unlock the phones which Service Providers claim cannot be unlocked. Our most popular GSM Network Unlocking includes:
We strongly believe in long terms relationship with you, as our partner.
Here are our philosophies:

1. Be the most reliable unlocking supplier for your business.
2. Offer you the fastest and most on time turnaround in the industry.
3. Give you the best possible price.
4. Beat or match all our competitors' price.
5. Be the friendliest supplier you ever deal with.
6. Give you the most user friendly system in the industry.
7. Finally, help you make money so we can make money.
To ensure our long terms relationship, we guarantee you the followings:
1. Give you an honest upfront and easy understanding of your account, including full details of all your order (Not like other suppliers, whom offer you a cheap low price and steal your credits with no or confusing accounting. If you currently have a supplier and buy unlock code, look at your purchase history, you be surprise how much credits they already steal from you).
2. Automatically reduce your unlock code price when the market reduce.
3. Keep you fully inform when problem arise.
4. Offer immediate refund when code Not Found.
5. Offer immediate resolution or refund when code error.
6. Offer 100% refund of your remaining credits if you not completely satisfy with our services.
7. When there is a problem, we take immediate action and find the best possible resolution for both of us.
USA Customer!
Due to the recent legislation passed by the Library of Congress for the Digital Millenium Copyright Act (DMCA), we are forbidden to unlock devices that were manufactured on January 26th, 2013 and later. We will not be held liable for unknowingly unlocking a device that was made from this date onwards for USA phones, phones made BEFORE this date are still 100% okay to unlock. This law can be completely ignored by clients outside of the USA in foreign countries.
We invite you to sign the petition to make unlocking 2013 cell phones legal :
https://petitions.whitehouse.gov/petition/make-unlocking-cell-phones-legal/1g9KhZG7